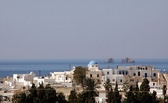 The capital of the island and the busiest place on Paros, with the main port, a marina, the artistic old town with its diverse forms of architecture, Cycladic and Neoclassical buildings.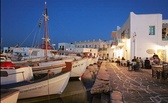 The most cosmopolitan place on Paros. Many unique beaches, around the town and an old town with a maze of narrow streets where one discovers classy shops, fashionable cafes and bars and gourmet restaurants.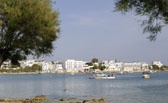 Situated in the south of the island, a fishing village with a small marina and sandy beaches. Known for its fish tavernas and the local feast "The Celebration of Fish", Aliki is a quiet place, ideal for family holidays with children.
---