Directory
Institutions

Naoussa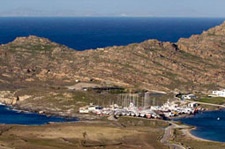 Paros Park is a 800.000m² (200 acres) protected peninsula of natural and historical interest, offering various environmental & cultural activities such as: a long network walking trails, an open-air theatre and cinema, various beaches, historical sites (a 100-year old lighthouse, a medieval monastery), a museum, a beach bar/restaurant and a water ski school. Every summer, it runs an Arts Festival with various concerts and shows. The restaurant area is also available for social events hosting.
+30 22840 53573 | Naoussa,Ai Yiannis Detis (Monastiri)
An interesting folk collection of traditional Greek costumes from various areas of Greece.
+30 22840 52284 | Naoussa, Peripheral Road
A new museum, in the old monk cells next to the monastery of Ai Yiannis Detis, in the premises of Paros Park. It hosts the permanent exhibition "The Island of Paros through the Russian cartography 1770-1774″ with map and info of that era, when the Ai Yiannis peninsula was the headquarters of the Russian navy.
+30 22840 24571 | Naoussa, Kolimbithres, Ai Yiannis Detis (Monastiri)
---