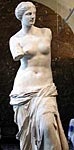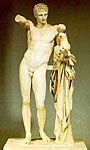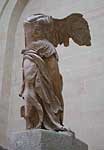 Paros, the white marble Island
Could it be that the magic of Paros lies in its crystal subsoil?


Paros, with its dramatic landscape and fertile plains, embodies all that is associated with the Greek islands. Composed mainly of marble, the island rises out of the central Aegean to it's peak at 771 meters above sea level.
Excavated remains prove Paros to have been settled since Neolithic times but the island reached it's political and cultural peak during the classic period when it boasted a population of over 60,000. Today, the more modest populace of 12,000 inhabit the famous Cycladic "sugar-cube" houses sprinkled liberally over the hillsides and around the natural harbours formed by the island's coastline.
For thousands of years the island's economy was driven by the delicate, white marble, famous for it's translucency and carved into many of the classic Greek artefacts housed in museums around the world. Still a Mecca for artists, who come for peace, inspiration and the light, the island stimulates creativity and encourages reflection and contentment within even the most hardened cynic.
During recent decades, tourism has developed into the main source of income and has bought with it a new generation of Parians who, proud of their island and their culture, are balancing convenience and accessibility with tradition and environmental conservation.
Between the miles of golden and sandy beaches are rugged cliffs and dramatic rock formations, evidence of the island's volcanic birth. The seawater is crystal clear and warm enough to tempt even the most unlikely bather.
The famed longevity of the island Greeks is attributed to their diet, consisting mainly of fresh salads, fish, and locally grown meat and vegetables. Dressed with olive oil and washed down with chilled Paros wine, the Cycladic cuisine is refreshing and delicious.
The fertile soil of the island's plains and valleys is still cultivated producing olives and grapes for export plus a large variety of fruits and vegetables for local consumption.
Antiparos, Paros' satellite island is towards the south-west side of Paros and separated by a kilometre of shallow water. Once joined to Paros, Antiparos is comparatively underdeveloped and is famous for it's large limestone grotto where amongst the stalagmites and stalactites, the graffiti of centuries ago is still evident.
Recent years have seen an improvement in the transport services between Paros and the rest of Greece. The new ferries are modern, fast and frequent. There are two to three flights every day from Athens airport in the new Dash aircraft and an air-ambulance is available for medical emergencies.



Read also:
• Statues from Paros Island white marble
Some of the famous statues from Parian marble are the Venus de Milo, the Victory of Samothrace and the Hermes of Praxiteles
Paros, the third largest island of the Cyclades is known by many as the jewel of the Aegean.
---