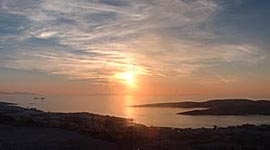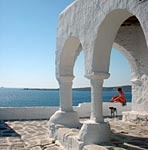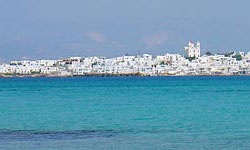 Overlooking the bay of Parikia at sunset – On top of the Kastro – Naoussa from the bay of Kolimbitres
Paros, the second largest island of the Cyclades is known by many as the jewel of the Aegean. The hills of Agii Pantes gently slope down to lonely pebble-covered coves and wide sandy bays.
Compared with the usual barren landscapes of the Cyclades, the first impression of Paros is that of a greener and more fertile island. A well-developed network of bus routes entirely encompasses Paros and its 120 km of coastline. Depending on the season, the primary locations are served up to 25 times a day: from the little seaport of Naoussa, where much of the tourism is centred, to the bathing resorts of Drios, or Pounta , the ferry port to the neighbouring island of Antiparos, and Aliki – close the local airport and its tiny arrivals hall.
In the idyllic South and East of Paros agriculture dominates: acres of wheat and barley, beds of melons, orange- and lemon trees, olive groves, figs and almonds. There is even enough water to plant tomatoes, eggplants, cucumbers and, of course, vines. From the red Mantilaria and white Monemvasitika grapes, about a thousand local farmers produce near 2,5 million liters of wine every year.
The Wind and Kite surfing centers are popular and highly recommended: winds of four Beaufort or higher turn the 700m long Golden Beach on the east coast into a pro-ground swarming with kites and sails where many championships are hosted. Behind the bay, one can glimpse a white mound under the mountain of Kefalos. This is Marpissa, said to be the most beautiful village in Greece. From here for 2km, a byzantine trail stretches up to the flowery mountain village of Lefkes.
Dozens of writers, painters, sculptors, musicians and poets consider Paros to be the cultural hub of the Cyclades. Instead of a contrived aesthetic, an authentic flair dominates the scene.
In Parikia, the capital of Paros and another main tourist centre, people stroll through the white alleys, rest below the Kastro or graze at one of the tavernas opposite the impressive church of Ekatontapyliani, the oldest church in Greece which has been in constant use. Around midnight locals and tourists alike promenade the mile long water front where tavernas, clubs and countless bars are only a step away. Everything is open and welcoming, like the people of Paros.



Read also:
• Paros, the white marble Island
Could it be that the magic of Paros lies in its crystal subsoil?
• Statues from Paros Island white marble
Some of the famous statues from Parian marble are the Venus de Milo, the Victory of Samothrace and the Hermes of Praxiteles
---