Welcome to the New Parosweb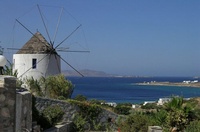 Parosweb is the directory of the Greek Islands Paros & Antiparos, Greece, in the heart of the Cyclades.
It is one of the first portals of Greece, incepted in 1997. Parosweb features a directory of services and products on Paros & Antiparos Islands, a guide that will help you immerse in the unique identity of our Islands and a social network that will allow you to stay in touch with the "Paros Community".
Visitors to Paros & Antiparos will appreciate the extensive accommodation directory which will help them find and book accommodation and other services, directly from the local provider, at the lowest price.
The Parosweb new interface and engine uses core technologies and graphical layout to offer you an optimized browsing experience and powerful search tools to make your query easy and effective.
The current version of Parosweb is the first release of an ongoing development which will bring, over the next few months, a series of new features and content.
Enjoy it!
---