Directory
Therapy

Dendrinou Elina - Physiotherapy Center
+30 22840 28678 | +03 6974 313430 | Marpissa, opposite the football court
Massage & Healing - Spiritual Guidance
Barbara provides massage care and energetic harmonization. Her main skills are massage with oils, Energy Treatment, silent or guided meditation (breathing & voice) and personal and spiritual development courses. Barbara speaks Greek, French & English. Available at her place or your home.
+30 6976 576393 | N/A
John Perry - Massage & Healing Bodywork
John Perry (Prem) offers massage and healing body work for pain and tension relief, yoga sessions and self-healing techniques. Individual and group sessions. More than 15 years of experience. Sessions in Greek and English.
+6986 479 566 | N/A
Rainbow AquaMotion
AquaMotion is a relaxing therapeutic exercise based in the water. Using gentle, smooth and dynamic movements, the body is able to stretch and relax weightlessly in the water. AquaMotion is not only a relaxing experience for your body but also for your mind. It is a deeper journey into your inner self. Sessions are done in the private pools or in the sea and are suitable for everybody of all ages. Maria & Petra are looking forward to float with you.
+30 6994 290244 | N/A
The diagnostic and treatment unit for children "Spyros Doxiadis" supports the childen and their family since 1982, providing services for the prevention, diagnosis and treatment.
+30 210 992 2666, 923 2347 | N/A
Rantopoulou Angeliki - Family Counselor
+30 22840 55219 | Naoussa
Unit of Mental & Psychological Health
A public service with visiting psychologists and psychiatrists.
+30 22840 22011 | Parikia
Sifneos Dimitris - Physiotherapy & Pain Relief Clinic
Mr. Dimitris Sifneos is a specialist in treatment of spinal disorders, licensed by the McKenzie Institute. The clinic also offers: manipulations, laser, electric acupuncture and ultrasonics; relief of pain and rehabilitation after sports injuries, due to arthritis, back pain and disc problems; electronic analysis of all types of foot problems. • Open weekdays: 09:00-14:00 & 18:00-21:00
+30 22840 22614 | Parikia, Gikas Crossroad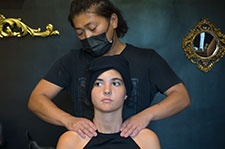 MITSU Hair Salon & Head Spa is not just a hairdressing salon. It's a once in a lifetime experience! In a safe and private space, with only one customer in the salon at a time, Mitsu will pamper you with first-class treatments. A supremely intimate experience for all your senses. Only high quality, cruelty-free products are used. Treatments: Color, Cut, Balayage, Wedding styling, Facial massage and more. In addition, a Shiatsu Head & Shoulders massage free of charge.
+30 22840 26683 | +30 6980 933 995 | Parikia, Livadia
Iasios Kyklos - Therapy Center
Diagnostic and rehabilitation center for Speech, Learning and Mobility difficulties and Psychological Health. A team of interdisciplinary professionals provide Speech Therapy, Occupational Therapy and Child Psychology, for a multitude of related disorders mainly for children, though specialized programs and consultations for parents/family. Also: mobility and speech rehabilitation for adults.
+30 22840 23956 | Parikia, Seafront
---