Directory
Shopping

Antiparos

Vicky's Confectionery
Cake and ice-cream making factory.
+30 22840 61012 | +30 6972 506954 | Antiparos
Tsibidis Spyros
Pharmacy.
+30 22840 61111 | +30 6948 516498 | Antiparos, Market Street
Blue Island Divers
Blue Island Divers dive center & shop in Antiparos have been running PADI courses for over 10 years. Conducting both boat and shore diving, they can cater for individual or group trips for scuba dives or snorkelling, stating that "we can take you to places only visited by us." • At their shop in Market street, you can find all kinds of diving equipment, wetsuits etc.
+30 22840 61767 | +30 6983 159452 | Antiparos Town: Market Stree / Seafront road
Konstandelos Fish Shop
Fresh fish provided by local fisherman as well as other frozen products such as oysters, shrimps and lobsters from Greece and the Atlantic, salmon from Norway and crabs from Chile.
+30 22847 71733 | Antiparos, Psaraliki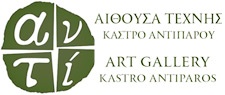 The Art Gallery "anti" operates from spring to fall, hosting painting, sculpture, photography & ceramics exhibitions by artists from Greece & abroad. Every July, the gallery organizes the "Antiparos Photo Festival."
+30 22843 61544 | +30 6974 400035 | Antiparos, Kastro
---