Parosweb features live webcams since 1999. Currently you will find the tilt-zoom live streaming webcam which is controlled by the "Paros Community". If you are tempted in joining the community, don't hesitate to contact us. Another featured webcam is the municipality's, streaming images from the southern seafront of Parikia. If your business wants to sponsor a new webcam please contact us.
---
Parikia Port Area Webcam
A fast streaming webcam installed on the roof of Holidays Travel agency and randomly overlooking different locations around the port, controlled by members of the Paros Online community.
brought to you by Holidays Travel
Go to Webcam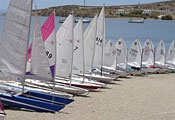 Municipality's Nautical Club NOP Webcam
A streaming webcam installed by the municipality in Livadia beach, at the Paros Nautical Club NOP, in Parikia.
brought to you by Dimos Parou
Go to Webcam
---