Beaches in Antiparos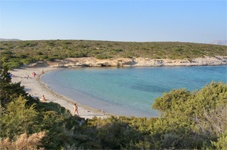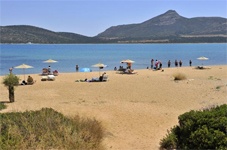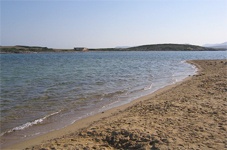 Around Antiparos town itself there are 5 beaches within an easy five minute walk, and 5 or so more if you're prepared to walk a little further. For beaches further away it's a good idea to have your own transport as the bus service is sporadic at best and for most of the summer the island has no taxis at all.
Where to Swim on Antiparos Island
Beaches near Antiparos Town
Livadia

This long wide stretch of white sand lies at the northern end of the bay, an easy 10 minutes walk from the port. Here you'll find many amenities including sunbeds, umbrellas, restaurants and beach bars.
Psaraliki

Here you'll find not one but two beaches, the first of which is around a five minute walk south of the port, with the second only a couple of minutes further on. Both beaches are ideally situated for swimming as they face south –east and are sheltered from the prevailing northerly minds meaning that big waves are rarely a problem. The sea is shallow here so perfect for families with small children. Trees provide shade but umbrellas and sundbeds are available.
Panagia

This thin strip of golden sand is around a 15 minute walk south of Antiparos Town, past Psaraliki.. Shade is available under the Tamarisk trees which line the beach and refreshments can be obtained from the well regarded taverna which sits a short distance back.
Camping Beach

As the name suggests here you'll find Antiparos Camping, but much more too. This is a wide sandy beach, around a 5 minute walk north of the town, that looks over the narrow channel separating it from the neighbouring islet of Diplos. Sunbeds and umbrellas are available, as are refreshments. This is also the place to head for if you like to let it all hang out while sunbathing as it's one of the few officially recognized naturist beaches in all of Greece. Be aware, that this is a place where naked people of both sexes like to play beach tennis , (or clip clop), so it's probably not one for the easily offended
Diplos

Exactly opposite from the Camping Beach, also has many fine beaches, but as the islet is completely uninhabited apart from some very friendly and always hungry goats, if you venture across the narrow sea channel, go prepared with your own refreshments. And guard them well if the goats come to say hello.
Also, take note that the sand banks in the channel move with the prevailing winds, and hence currents, so the easiest way across may not be where it previously was. It's probably best to waterproof equipment such as mobile phones and cameras to be on the safe side. Or take a snorkel and long arms for the deep bits.
The town beach

Just to the north of the town lies a long curving strip of sand, almost orange in colour and fringed with shade providing tamarisk trees. This beach is perfect for small children as until around 30 to 40 metres from the shore the water is at most only around 20cm deep. Bars and restaurants are only a short walk away but make sure you take something to lie on as there are no beach beds , or umbrellas for hire.
Sunset Beach or Syfneiko

To get here you need to walk up the main street of Antiparos town until you reach the main square. Continue through a low arch connecting two houses and follow the road that turns left after the arch. You'll arrive at Sunset Beach. As the name suggests, this is a great place to watch the sun go down. It is exposed to the winds from the north and west and so the waters can be quite rough. When not windy though, it's a great beach for swimming or snorkeling as the water, although colder than on the eastern side of the island is crystal clear.
Where to swim – Away from town
South of the town lie many beautiful beaches. The thing to remember with most of these beaches is that they are as undeveloped, as nature intended. Take something to lie on, refreshments, and enjoy the pure and simple beauty of Greece at it's most untouched,. Also bear in mind that except for around Antiparos town itself beaches are accessible only by bus or private transport, and out of peak season if you don't have your own transport check bus timetables as they can be relatively infrequent, especially late in the day. And taxis do not exist on Antiparos.
Glifa

Close to the road are two beautiful beaches which except for at the height of the summer are usually deserted. These are 'natural' beaches so remember to take anything you're going to need with you.
Apandima or Still Waters

This is where the boat used to dock for Antiparos's famous cave before the road was completed. Backed by a renowned restaurant, this is a lovely cove, its' beach, pebbly rather than sandy but it does enjoy protection from winds both north and south. Plus there is a rather bonkers collection of signs at the southern end. No sunbeds or umbrellas are available but there is shade.
Soros

This is a long beautiful stretch of sand. Except in July and August it is relatively deserted. The sand is quite coarse, which is nice as it doesn't get everywhere. The water gets deep very quickly but it is a great beach for swimming.
Agios Georgios

This is an area known for its small but beautiful sandy beaches on the south eastern coast of Antiparos. It looks south to the neighbouring uninhabited islet of Despotiko which also has many great beaches, the best of which faces back towards Antiparos and is more than a kilometer long.
There are some lovely tavernas here including one that is so small it has no menu. The dishes of the day are the menu, and eating there is almost like you have been invited into a private house to enjoy the family's home cooking. It's highly recommended.
Bear in mind that apart from the tavernas which are often set well back from the beach, there are no amenities in this area so make sure you go well prepared.
West Coast
Between Sunset Beach and St Georgios there are a number of undeveloped beaches, but you will need to have your own transport. The best known of these is called Livadia. To reach it, take the road to Kambos. Keep going west until a fertile valley comes into view. The road then divides. Straight ahead is Livadia, a perfect semi circle, but unfortunately due to its' location , a beach often clogged with seaweed. The good news is that it doesn't reach either far up the beach or out into the water, and once past it, the sea , especially on calm days is especially beautiful.
There are many other secret little beaches. Go look, and you may discover!
Compiled by Andy Kirk
---