Gay and Lesbian Life on Paros.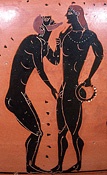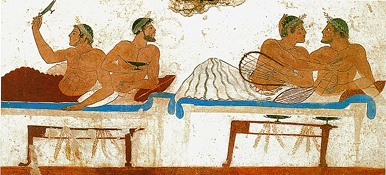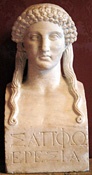 Many of the literati or historically aware hanker for the times when gay love was accepted or indeed honored, when regiments of Amazons marched bare breasted, perhaps to do battle with an army partly comprised of male lovers who would fight viciously to avenge their man.
For most gay people of either gender, it is hard not to think of these legends when visiting a sun kissed Greek island steeped in such a rich and ancient history as Paros'.
These days the only bare breasts to be found are being grilled on beaches or bouncing about in one of the less reputable bars and if there's any vicious battle being fought by gay men it's usually a domestic.
Whilst the gay life on Paros is understated and a long way from the wild partying of Mykonos, 25 miles to be precise, Paros is still a great choice for many gay people who don't need a ghetto but like to feel welcome and appreciated.
I have lived on the island for 25 years openly gay and have never experienced any kind of animosity regarding my sexuality. Neither have I heard of any gay couple experiencing even a raised eyebrow should they ask for a double bed wherever they stay. The Parians seem genuinely fond of gay people and react negatively only when they discover a son or daughter is so inclined.
There are no exclusively gay bars or clubs on Paros but one or two bars are mixed, such as Fotis and Tonic in Naoussa. There are two beaches (clothing optional), where gays tend to gather: Kalami (or Kalamies) and Lageri, both in the bay of Naoussa. Cruising occurs at both beaches and occasionally but more discreetly on most of the islands nudist beaches. There are several gay owned businesses on the island that advertise in gay websites but welcome clients of all persuasions. Kanales Rooms and Suits and Manis Inn in Naoussa are popular hotels, in Parikia there is Pension Niki or out in the sticks, the charming Sotires guest house both of which are gay owned.
There are many gay people living permanently on Paros but a community as such has never been formed. We all enjoy our friends and our chosen families without any need or desire to group together and form any kind of social enclave. This in itself is a great compliment to Paros and its' people and probably one of the many reasons why many gay couples and singles come back year after year.
For a fun filled and relaxing holiday or a place to chill after a week of frenzied gyrating on Mykonos, Paros is ideal. Check it out!

Article by Bruce Hymers
---