Beaches in Paros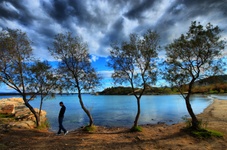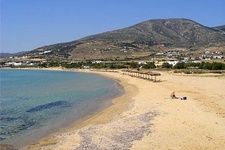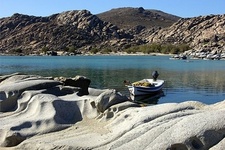 The Environmental & Cultural Park – Golden Beach (windsurfing) – Sculpted rock formations, Kolymbithres
Paros is blessed with some of the best beaches in the Aegean. Long stretches of golden sand, hidden coves, developed, with sunbeds, umbrellas and a waiter to cater to your every whim, or left as nature intended. Whether you are planning to spend the afternoon beneath the shade of a tamarisk tree, dancing the afternoon away under the blazing summer sun or doing something a little more strenuous like kite, or windsurfing, Paros has a beach for you.
Here are some of our recommendations.
Popular beaches on Paros Island
Parikia
Livadia

This long wide stretch of white sand lies at the northern end of the bay, an easy 10 minutes walk from the port. Here you'll find many amenities including sunbeds, umbrellas, restaurants and beach bars.
Krios

Krios is a small sandy beach on the other side of the bay from Parikia, sheltered from the at times, strong summer Meltemi winds. The beach is equipped with sunbeds, umbrellas, and backed by a beach bar / restaurant. It is accessible by small boat from Parikia's port (1st stop), or around a 30 minute cliff-top walk from Parikia.
Marcello

This is arguably the area around Parikia's finest beach, a long wide expanse of golden sand with crystal clear waters fed by underground springs. From the beach there is a great view across the bay to Parikia. The sea is noticeably cooler here so perfect for sweltering mid-summer afternoons. The jetty at the end of Marchello is the second stop if you catch the small ferry from Parikia,, or you can walk. (Around 35 minutes from the port along the same route as for Krios beach.) Marcello is fully developed, with beach bars, sunbeds and umbrellas, and if you're lucky an old man who will try and sell you "froo-its, grapes, froo-its." To the left of where the ferry docks are two small undeveloped beaches with no amenities but thy are well shaded and less crowded during the peak season.
Souvlia

Also known locally as Deplhini this beach is perfect for days when the south wind or Sirocco is blowing. Around 500 metres from the shore are a group of rocks with a small underwater cave. It's a relaxed and friendly beach, popular with locals and backed by two restaurant/ bars with very different cuisines. Sunbeds and umbrellas are available. Souvlia is around a 15 minute walk south of Parikia or 10 minutes by bus from the port.
Parasporos

This is a big wide stretch of sandy beach. It can be very windy here but on days when the Meltemi is blowing straight in, it's perfect for body surfing as the waves can get extremely high. On calm days Parasporos is a beautiful place to relax with a view out to the small islet of Agios Spiridon. The beach is fully equipped with sunbeds and umbrellas at one end near the bar and restaurant while the southern half, after the taverna is more tranquil with tamarisk trees providing shade. It's around a 20 minute walk from Parikia or 10 minutes on the bus from Parikia.
Agia Irini

Here you'll find two small beaches, one lined with palm trees and the other shaded by tamarisks. Both beaches which sit at opposite ends of a small semi- enclosed bay have tavernas. Agia Irini is accessible only by private transport. Or a long walk.
Naoussa
Kolymbithres

This is not a beach as such, rather a series of small sandy coves separated by strange and very beautiful wind and wave sculpted rock formations. Kolymbithres enjoys shallow crystal clear water and so is perfect for children, although it can be extremely busy here in July and August.. Sunbeds and umbrellas are available and the area is served by a number of busy tavernas. The area is worth a visit for the view across the bay to Naoussa alone and is accessible by road or the small boat that leaves every half an hour or so from the port in Naoussa.
Agios Yannis Detis

This stretch of seafront is also known as Monastiri, due to the small monastery of the same name that sits on the rocks just to the right of what is possibly the most beautiful beach on Paros. In recent years it has become part of the Enviromental and Cultural Park of Paros, an area put aside for the preservation of the natural splendour of the island. The beach itself is a wide stretch of golden sand set in a magical bay, sheltered from the winds by high rocky hills. This is a perfect beach for children as the sea is very shallow for 40 or 50 metres from the shore. A canteen to the left of the beach provides refreshments, sunbeds and umbrellas and in the summer months plays host to cultural events. On the other side of the bay watersports are available. Monastiri is accessible by small ferry from Naoussa or by road. For more information about The Park and events held there, visit www.parospark.com
Santa Maria

The main beach is known as Santa Maria Surfing Camping Beach. This is a long wide expanse of golden sand and despite being one of the most popular beaches on the island due to its' size, it never seems to get too crowded, even during the summer months. Here you can find any and everything, campsite, bars, tavernas, watersports and even a swimming pool. The beach is serviced by bus from both Naoussa and Parikia. Also, a few kilometres further up the road are two smaller beautiful sandy beaches, rather confusingly also known as Santa Maria. These beaches while quieter than the Surfing Camping beach also enjoy a full range of amenties from sunbeds and umbrellas to a dive school and snack bar.
Laggeri

As close to a 'secret' beach as you will find in these pages, Laggeri is located on the other side of the promontory from Santa Maria and looks out over the sea towards Naoussa. This is a long crescent of white sand backed by the only sand dunes on the island . It's popular with nudists, but not exclusively so. Be warned however, this is probably not the best option for a family day out. Laggeri is totally undeveloped so go prepared with food and drinks etc. Laggeri is accessible by car or bus to Santa Maria and then a 10 minute or so walk. It's probably a good idea to ask for directions from a local.
Eastern Paros
Molos

This is one of a number of small beaches close to the village of Marmara. Deep blue sea and soft golden sand are the attractions here, as is the fact that due to their relative isolation they are always calm and usually almost deserted even in July and August. Close by, you can find accommodation and a number of small tavernas. Molos is accessible only with private transport or your own two feet.
Logaras

600 meteres south of Piso Livadi Logaras beach is fringed with tamarisk trees and backed by a number of tavernas specializing in fresh fish and local dishes.
Golden Beach

Here you'll find one of the longest beaches (almost 700metres) on the island and definitely one of its most beautiful. Windsurfing takes centre stage here and if you visit in August you may be lucky enough to catch the spectacle of hundreds of surfers gliding over the waves as they compete in the annual Professional Windsurfing World Cup. There is also a scuba diving school on this fully organized beach and restaurants and accommodation to suit every taste, and wallet. Golden Beach is easily reachable by bus from Parikia or Naoussa or with private transport.
New Golden Beach or Tserdakia

This beach is again, an ideal place for windsurfers, as the school here is staffed by very experienced instructors including one Olympic champion. The wide expanse of sand is, as the name suggests golden in colour. Tserdakia beach is a short 10 minute walk from the bus stop on the main asphalt road.
Pounda** This is a beach made from beautiful deep caramel coloured sand, although in summer you'll be lucky to see any of it as the seafront is completely packed with revelers enjoying the sights and sounds of the popular beach bar/club that lies directly behind. Pounda Beach is accessible by bus from both Parikia and Naoussa.
Southern Paros
Farangas

This is a wide sandy beach with a series of smaller coves to the right of the main beach. Once this area was relatively unknown but with the construction of a dedicated tarmac road Farangas has developed into one of the islands 'major' beaches complete with beach bars and restaurants and of course sunbeds and umbrellas. It's a great destination for windy days as it's completely sheltered from the Meltemi northern winds and is accessible only by private transport or around a 45 minute walk from Aliki.
Aliki

Right in the town Aliki's beach is a perfect place to keep an eye on the kids while enjoying something to eat or drink in one of the beachfront tavernas. It enjoys a great view over the bay of Aliki with dozens of small fishing boats bobbing in the gentle sway. There are no sunbeds or umbrellas but the beach has easy access to shops and tavernas.
Agios Nikolaos

The second beach of the village of Aliki, accessible from the center, by walking west along the coast (400m away). Behind the beach there is a beautiful, protected wetland. Also, next to the beach you will find tennis, football and basketball courts. This beach is relatively quiet even in August.
Pisso Aliki

600m. east of Aliki center, you'll find Piso Aliki, a favorite beach for local families. The water here is very clean. Rounded pebbles cover the beach and the bottom of the sea, and there are many trees for shade along the coast. There is also a seaside restaurant. Near this beach you can find the first yoga school of the island.
Voutakos

An idyllic stretch of sand sheltered from the north wind, this beach is totally undeveloped and relatively unknown. There are great views to Antiparos and the small islets inbetween. Voutakos is accessible only by car or a very infrequent bus service from Parikia or Pounda.
Pounda (port to Antiparos)

To the south of Pounda lies a long long expanse of soft yellow sand but it's mainly a beach for watersport enthusiasts. The school here is renowned throughout Greece as one of the best places for kite and windsurfing. A dive school also operates from the port of Pounda from where you can catch the ferry to the neighbouring island of Antiparos.
• Of course there are many many other smaller less well known beaches around the island but those you'll have to seek out for yourself as there wouldn't be much point in recommending a 'secret' quiet cove here. Needless to say, if you look, you will find.
Compiled by Andy Kirk
---