Directory
Getting around

Parikia

K&K Car Rentals
Car rentals to suit every need.
+30 22840 3050 | Parikia, Parikia-Naousa Road
Praxis tours
Travel agency offering boat & air-ticket services, money exchange, car & motorbike rentals, one-day excursions, accommodation services & original activities on the island. Expert service.
+30 22840 24415 & 24416 | Parikia, Port
(Parikia Bus Station) +30 22840 21395, (Naoussa Bus Station) +30 22840 52865 | Parikia, Port / Naoussa, Potami (river bed)
YOUR Car & Moto Rental
Various kinds of cars and motorbikes ranging from scooter to 'street'. Pick-up and delivery at the place of your preference; often offers economical prices. Professional service in their 2 offices at the port (inside Santorineos travel office) and in Naoussa.
+30 22840 (Parikia) 24245, (Naoussa) 52702 | Parikia Port (at Santorineos Travel) / Naoussa, Piperi Main Road
Central Taxi Station
+30 22840 21500 | Parikia, Port
Meltemi Travel
Travel agency offering full ticketing and travel services, agent of Blue Star Ferries. Also organizes incentive local tours of cultural, environmental and mainly religious interest.
+30 22840 21242 & 22558 | Parikia, Ekatontapiliani Street
European Car & Motorbike Rental
A family business, recommended by Lonely Planet, Le Guide de Routard & Michael Müller Verlag. Offering car & motorbike rentals.
+30 22840 21771, 23681 | Parikia, Zoodocho Pigi
Polos Tours
A general travel agency, member of HATTA, offering domestic and international air and boat ticketing, excursions, accommodation and car rentals. Helpful and polite staff, open all year round.
+30 22840 22092, 22093, 22333 & 23614 | Parikia, Port
Sailing and Swimming Adventures with Akis
Private and individual sailing and swimming holidays on a locally owned 40' yacht with a fun Skipper. Daily or weekly customized trips with accommodation on board. 3 Double Cabins, 1,5 bathrooms. Swimming, snorkeling, fishing, hiking and relaxing. Complimentary sailing lessons. Food and drinks included. Max. 5-6 persons.
+30 6945 146232 | +30 6980 572059 | Parikia, Old Town, Port
Auto Dermatas Paros Rentals
Located right at the port of Parikia, Auto Dermatas offers a big variety of cars, from small, to station and 4x4 cabrio. Cars can be either manual or automatic, fuel or diesel. Pick up and delivery services available at the port, airport and your hotel. The company deals with car rentals & sales for more than 35 years, and offers quality service with a smile and no hidden charges. Reasonable prices, pet-friendly cars, hotel & car packages, monthly rentals available.
+30 22840 24408 | +30 6985 832 861 | Parikia, Old Town, Port
Avant Car Rentals & Tickets
Avant operates on Paros since 1980. It offers Car Rentals ranging from small 3-door, to convertibles, 4x4 and mini-buses with manual or automatic transmission. Pick-up/delivery service available. Avant also offers travel services with Ferry Tickets & Flight reservations from/to Paros. Book your car & tickets via the Avant secure online booking.
+30 22840 22302, 23052 | Parikia, Marina
General agent for "Speed Runner" high-speed ferries and WESTERN UNION. Also offers International and domestic ferries ticketing, cars rentals, daily cruises and excursions.
+30 22840 24616, 24816 | Parikia, Port
Santorineos Travel offers a wide range of services including car rentals, ferry tickets, motor yachts chartering, excursions, VIP services and luggage deposit.
+30 22840 24245 | Parikia, Port

Paros Happy Bike provides fast and reliable services for motorbike rental in Paros and an extensive fleet of new models of motorbikes, ATVs and bikes. Its motorbike fleet is new and always kept in perfect condition to ensure your safety on the roads of Paros and Antiparos.
+30 6936 999177 | Parikia, Parikia-Naoussa Road

Operating since 1985, Loukis offers a variety of cars (incl. automatic & 4X4 models), scooters, motorbikes, quads, bicycles, as well as electricals. Also, second-hand motorbikes are offered for sale. Delivers to the port and to the airport desk. Please ask for long period rental offers.
+30 22840 23679 | +30 6978 010678 | Parikia, Peripheral Road / Parikia, Mando Mavrogenous Square

Paros Bikes (Kondilis Bike Rental) offers a variety of scooters, quads & buggies to rent on a daily basis and gives the possibility to reserve a vehicle upon your arrival. Central location, just 2 minutes walk from the port.
+30 22840 24445 | Parikia, Marina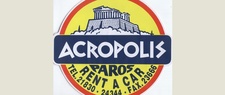 Acropolis Rent A Car is one of the first «rent-a-car» companies established Paros Island, as it was founded in 1980 by Nick Boyatzis. All these years the company has proved the quality of customers' service.
+30 22840 21830 | Parikia, Marina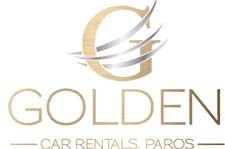 Offers car rental and transfer services on Paros and Antiparos Islands. Provides you with any service whether it's car rental or transfer in any location of the two islands. Specializes in Events, Tours & Excursions. Also offers VIP transportations and services persons with disabilities.
+30 22840 23748 | +30 6977 014781 | Parikia, Livadia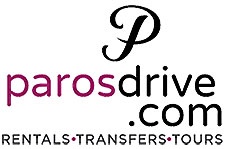 Travel Services Agency offering car rental with top model cars at competitive prices, private tours and excursions by minibus or boat, and transfers by car, minibus, boat or helicopter. Its areas of activity include the islands of Paros and Antiparos.
+30 22840 26137 | +30 6909 374513 | Parikia, Parikia-Naoussa Road
---