Directory

Franca Scala

Skaramagkas Jewellery Workshop
Making jewellery for 50 years now, Evangelos Skaramangas & Yannis Xenos live and work in Paros. Special hand-made art pieces in gold & silver with precious & semi-precious stones.
+30 22840 21008 | Parikia, Old Town, Market Street, Franca Scala
Vape Chimp
Electronic cigarettes and accessories.
+30 22840 23702 | Parikia, Old Town, Market Street, Franca Scala
Soho
A heaven of accessories! Colours and beads, natural material and imaginative patterns: bags, sandals, jewellery and more. Many handmade items.
+30 22840 24737 | Parikia, Market Street, Franca Scala
Mina's Closet
A stylish and girly boutique in the Old Market Street of Parikia, where stylist & accessory designer Mina Katrantzaki, presents a carefully selected collection of women's clothing, shoes and accessories. Here, you can find "Mina's Handmade" line of jewelry, sandals, bags and scarves, and also handpicked garments of Greek brands such as Philosophy, Cristina Beautiful, Greek designers, Belleville Clothing and International brands like Numph, Tenki, Empathy, Beck Sonder Gaard. One of the few boutiques in Greece which has Valia Gabriel sandals
+30 22840 25057 | Parikia, Market Street, Franca Scala
Angel's
Chic & trendy - at Angel's women's clothes shop, you can find a large selection of summer and winter clothes, for all occasions. Each piece at Angel's is carefully selected and Panos (owner) may give you many stylistic ideas.
+30 22840 25127, 53380 | Parikia, Market Street / Naoussa, Old Town
Pirate Bar
One of the oldest in Parikia, this beautiful, and very cozy bar is under new management and has recently undergone a stylishly subtle makeover. Here you'll find a cosmopolitan mix of all nationalities drawn by the diverse music and warm welcoming service. Pirate plays host to a variety of events including dj nights, live music and other activities.
+30 6979 194074 | Parikia, Franca Scala
Charity shop and information point of the Paros Animal Welfare Society (PAWS). Find low-cost pet accessories, jewellery, second-hand clothes & books, gifts and PAWS products.
+30 6975 060927 | Parikia, Market Street, Franca Scala area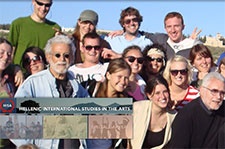 HISA is an accredited study abroad program that offers full semester and year courses in the arts and humanities at both undergraduate and graduate levels. Check out their website for the programs currently offered.
+30 6948 516797 | Parikia, Old Town, Market Street
---