Dafereras Renewable Energy & Hardware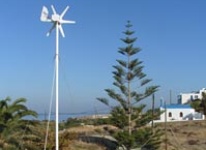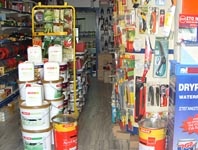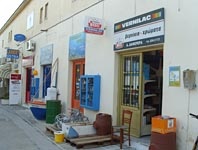 ---
Aristea & Antonis Dafereras Shop offers renewable energy systems in Paros – Antiparos: solar panels and small wind turbines and all relevant equipment (accumulators, converters etc.) to make your own house partially or fully energy sufficient.
Antonis Dafereras (designer & civil engineer) supervises the installation himself to achieve optimum function results in the operation and, equally, in the aesthetics of the green energy system.
• The house of Antonis & Aristea Dafereras in Parasporos, where a cute, small wind & solar energy system is in function for a few years now, can be visited on Monday – Wednesday & Saturday afternoon (17:00 – 20:00) after appointment, please.
Aristea & Antonis Dafereras offer as well a variety of hardware products in their well-known store, which has been operating for more than 20 years. Among all hardware products, you may find as well, the high-quality Adler paints (lime based) that bear a 15-year guarantee (when used as instructed by the firm.) Also electrical supplies, power tools, various kinds of tools, well pumps etc.
At Dafereras Hardware Shop there are seasonal items – like wine barrels, olive picking cloths and more.
Also shredders for trimming down garden clippings which can eventually be used to make organic fertilizer.
At Dafereras Hardware Shop, you can seek professional advice or ideas for any questions on building and repair you may have.
---
+30 22840 23810
|
+30 22840 21123
---